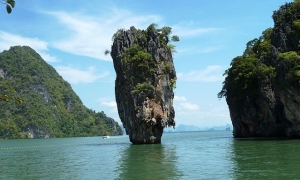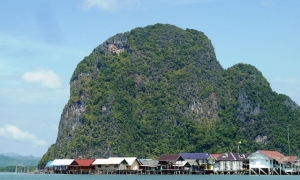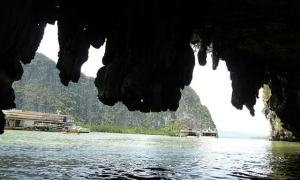 James Bond Island is probably the most popular landmark of the Phang Nga Bay in Thailand. This rock become famous worldwide in the movie "The Man with the Golden Gun". A unique limestone cliff rises above 40 m vertically from the emerald water. The name Koh Ping Gan means nail island in thai language, which impressively describes what you will see.

The entire area offers many spectacular spots, worth to visit. Even the tripthrough the impressive islands is a must see. There also is the seagypsies village of Koh Panji who lives on the water for decades. Many mysic caves, lonely bays or lagoons invite you to discover or just to spend some time on a secluded beach.

The best way to see the beauty of the national park is to rent a private boat. So you can decide where you want to go and easy stay away from crowded places.
Pictures: Copyright of
Deror_avi
(CC BY 2.0)