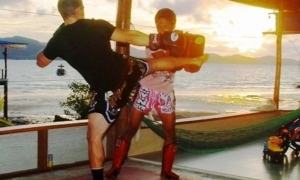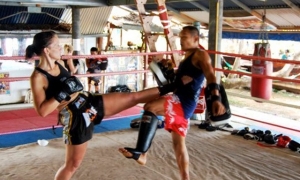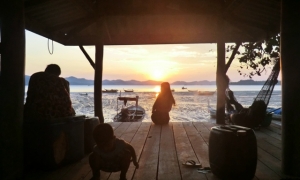 The KYN Muay-Thai-Gym offers professional Muay Thai training with coach superstar Hlukhin, a 10-times Muay Thai Champion. Hlukhin and his coaching team are very talented and dedicated professionals. They provide participants an intense and authentic training. Muay Thai will help you to increase your speed, agility, endurance and strength.

The classes are very small and so individual attention is guaranteed. The camp is located directly on the beach with a great view over the bay. Here you can practice in front of a breathtaking sunset or cool down in the pool. If it is your dream to fight against a Muay Thai Champion or do you want to get in shape again, then we will help you to achieve your goal.

If the coaches feel that you are ready for it, KYN Gym offers the chance to fight in the one of the big stadiums of Thailand as the Rajadamnern or in Lumpini Stadium in Bangkok.
Pictures: Copyright of
K.Y.N. Muay Thai Gym