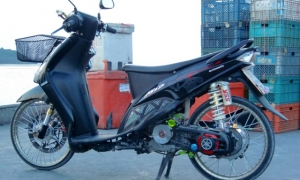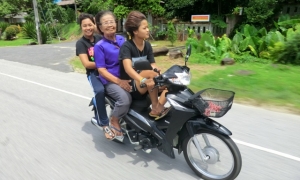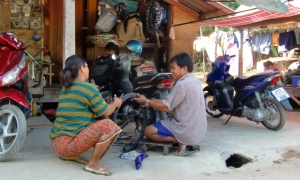 The easiest way to explore the island is certainly by scooter. With the sun on your skin and the wind in your face you can just follow the road wherever it leads. This is a great experience and you never get lost on a small island. In Thailand to every house belongs a scooter. Even the local kids learn to drive to school at the age of eight.

The left-hand traffic requires some attention, but you get used to it very quickly and the local traffic makes driving easy. On some dirtroads caution will be required, especially in rainy season they can get very slippery. You should pay attention to this and always wear a helmet and protrect your skin from sunlight.

Thai law requires a driver's license so take your license with you. In addition to the shops selling gasoline from bottles, there are three fuel terminals which allow refueling around the clock .

We rent scooters and will gladly show you the specifics of the manual transmission or the automatic models. We also offer you maps and suggestions for your day trips.